Murder Mystery Evening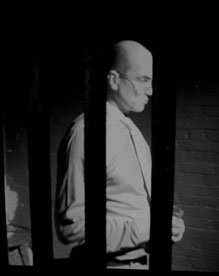 Come to Arundel for a murder mystery dinner with a difference! As you enter the haunted jailhouse, you'll encounter the ghost of a murder victim, who will invite your table to solve the mystery of how they were killed!
Tables work as a team to resolve the mystery, and seat up to 10 people.  Larger parties may be seated on separate tables but they will be as close to each other as is possible. If you book under different names, please let us know if you are part of the same party. 
The menu varies but usually consists of a pate starter or vegetarian option, and a main course buffet of cold meats, smoked salmon, quiche, coleslaw and a variety of salads, dips, cous cous and bread. Dessert is usually chocolate or a similar gateaux with cream. Due to the layout of the Jailhouse there may be a little time needed to queue for the main course cold buffet.
Individuals with special dietary requirements are welcome to bring alternative food by prior arrangement, although there are plenty of vegetarian options available. For food intolerances, please speak to a member of staff for details of individual dishes.
Allergy Advice
Please note that we prepared the food in the same kitchen and we provide a buffet so therefore we cannot guarantee no cross contamination. Our caterers can provide special food menus with people with food allergies, intolerences or requirements provided that we are notified in writing atleast five days before the event. Please note that due to the specialised ingredients there will be an extra cost added to this per person per special menu. If you are using an outside caterer for your event please ask them to get in touch with usso that we can discuss their special food allergy, intolernece and requirement procedures.

If you are having catering at your private event please notify us or your caterers of anybody with food allergies, intolerences or special requirements. For more info please contact us.
Tickets and Booking
Tickets are £29.50 per head and include a three course buffet meal. A full bar service will be available throughout the evening.